Written by gearbots
Published: 03 Feb 2019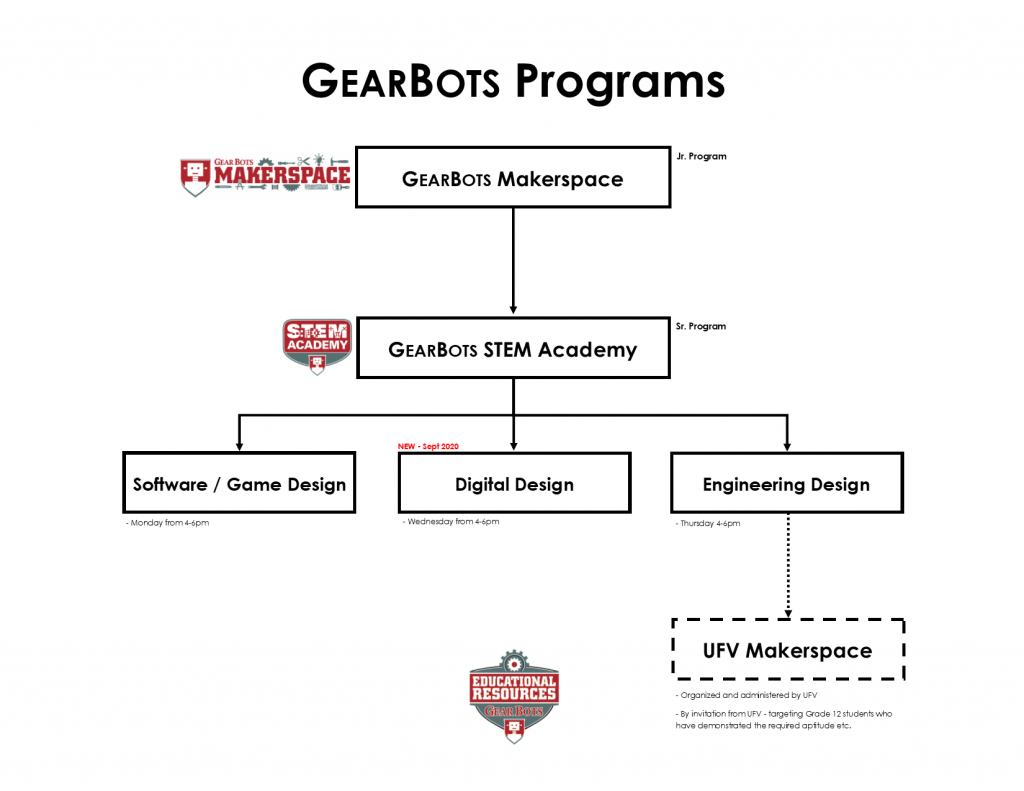 Download our information package: Overview of our programs
- May not be up to date information
Prerequisite:
Successful completion of one or more of our Jr. Makerspace STEP 2 course. Invited by one of our instructors and has demonstrated the skills necessary for success in this program. Must have an appreciation for physics/math (computational thinking).
Target:
Ages 12+ by invitation only
- Candidate must demonstrate a readiness and a willingness to accept this challenge. We will identify and communicate with parents directly when we feel the student has demonstrated a readiness for the next level. Students could be eligible for one or both our academy options.
- Soft skills required: aptitude, self-regulation, maturity, focus, teamwork skills, communication, collaboration, critical thinking, creativity, personal drive/interest, being reliant, attention to details, following instructions, independent learning, core technical skills
Focus:
- STEM Education = Science, Technology, Engineering, Math
Developing intermediate to advanced skills in coding, engineering design, modern fabrication, and electronics
Locations and dates:
Due to Covid-19, our Academy courses will be virtual
Chilliwack: at UFV Trades and Technology campus on (on-site use postponed due to Covid-19)
- Mondays: Software / Game Design cohort class from 4pm-6pm
- Wednesdays: Aerospace Design cohort class from 4pm-6pm
- Thursdays: Engineering Design cohort class from 4pm-6pm
Course length / Fee:
14 week course (28 hours per course) - $460.00 CND + GST
Instructional format:
Virtual / direct instruction/lecture format with lab time to work on long-term projects
- Projects will have the opportunity to develop over a number of years and/or take more than 14 weeks to complete
Other:
Each participant must have a laptop/desktop at home, access to a Zoom account, a personal Gmail account for our google classroom. Other technical requirements as determined by the instructor.
Registration for this program will be done through a special link emailed directly to the participant's parents/guardians for payment.
Comments Off

on Sr. STEM Academy Overview