Written by gearbots
Published: 25 Nov 2011
Professional Development Opportunities
Using Robotics To Enhance The Curriculum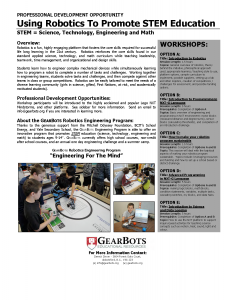 - Educating Students "Outside the Box"
Overview: Robotics is a fun, highly engaging platform that fosters the core skills required for successful life long learning in the 21st century. Robotics [coding] reinforces the core skills found in our standard math, applied science and technology curriculum while teaching leadership, teamwork, time management, and organizational and design skills.
Students learn how to engineer complex mechanical devices while simultaneously learning how to program a robot to complete a number of tasks and challenges. Working together in engineering teams, students solve tasks and challenges, and then compete against other teams in class or group competitions. Robotics can be easily tailored to meet the needs of a diverse learning community (girls in science, gifted, First Nations, at risk, and academically motivated students).
Professional Development Opportunities:
Workshop participants will be introduced to the highly acclaimed and popular Lego [NXT/EV3] Mindstorms. Download flyer for more information. Send an email to info@gearbots.org if you are interested in learning more.
Click on the link to download a flyer: 

Professional Development Flyer

(pdf)
Comments Off

on ProD & Training