Written by gearbots
Published: 05 Nov 2017
Looking for an innovative program to inspire your child in STEAM (science, technology, engineering, arts and mathematics)?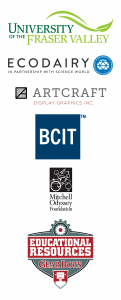 We offer Makerspace programs for children aged nine years and older in the Fraser Valley. In our Makerspace, your child will receive hands-on experience in robotics, computer coding, electronic circuits and 3D printer fabrication, all within a fun, safe environment.
Prerequisite: Students are required and expected to be able to work cooperatively with others, follow directions, work on-task, function within the lab / team setting, and be respectful of both the equipment and others. This program is NOT advisable for students with behavioral or social needs.  Space is limited, so reserve your spot today. Maximum 14 students per course.
To find out more or to reserve your child's place, contact ECODAIRY.CA at info@ecodairy.ca or call 604.557.5481
Targeted Students:
Academically motivated students (ages 9-15+) within the Abbotsford area. Click to download our
Participant Registration form, Waiver and Media Consent Forms
.  Please bring to these completed forms to the first class.
FALL/WINTER 2017 Courses:
1. EcoDairy ~ Abbotsford  at 1356 Sumas Way, Abbotsford A. Monday 3:30pm-5:30pm: Sept 11, 18, 25, Oct 2, 16, 23, 30 (7 classes) - $182.00 + tax B. Monday 3:30pm-5:30pm: Nov 6, 20, 27, Dec 4, 11, 18 (6 classes) - $156.00 + tax 2. UFV Trades and Technology Campus ~ 5579 Tyson Rd, Chilliwack - Electronics Lab #2031 A. Thursday 4pm-6pm: Sept 7, 14, 21, 28 Oct 5, 12, 19 (7 classes) - $182.00 + tax B. Thursday 4pm-6pm: Oct 26, Nov 2, 9, 16, 23, 30 Dec 7 (7 classes) - $182.00 + tax 3. UFV Abbtsford Campus ~ 33844 King Road, Abbotsford, building and room number TBA A. Saturday 11am-1pm: Sept 9, 16, 23, 30 Oct 14, 21, 28 (7 classes) - $182.00 + tax B. Saturday 11am-1pm: Nov 4, 18, 25, Dec 2, 9, 16 (6 classes) - $156.00 + tax
WINTER/SPRING 2018 Courses:
1. EcoDairy ~ Abbotsford  at 1356 Sumas Way, Abbotsford A. Monday 3:30pm-5:30pm: Jan 8, 15, 22, 29, Feb 5, 19, 26 (7 classes) - $182.00 + tax B. Monday 3:30pm-5:30pm: April 9, 16, 23, 30, May 7, 14, 28 (6 classes) - $156.00 + tax 2. UFV Trades and Technology Campus ~ 5579 Tyson Rd, Chilliwack - Electronics Lab #2031 A. Thursday 4pm-6pm: Jan 11, 18, 25 Feb 1, 8, 15, 22 (7 classes) - $182.00 + tax B. Thursday 4pm-6pm: April 5, 12, 19, 26, May 3, 10, 17, (7 classes) - $182.00 + tax 3. UFV Abbtsford Campus ~ 33844 King Road, Abbotsford, building and room number TBA A. Saturday 11am-1pm: April 5, 12, 19, 26, May 3, 10, 17, (7 classes) - $182.00 + tax